There's been lots of rhetoric recently about whether blogging is dying and why, or why not, this might be happening. Gini Dietrich recently looked at the benefits of business blogging on SpinSucks and asked, very openly, whether companies are just being lazy. Geoff Livingston wrote a month or so back about how the larger blogs are increasingly starting to dominate the blogosphere and command the traffic that is the lifeblood of any blog. But whatever the reason, it's an issue that has really struck a chord with me, and something I feel deserves more attention.
When I commenced FutureComms at the start of the year it was at the expense of an established blog, TheSocialWeb. I wanted to try something different using Tumblr, mixing up feature posts, guest posts and short, snappy comments and quotes as a reaction to what I saw happening around me in the blogosphere. But due to the demands of my day job at BOTTLE and feeling a little jaded, it ground to a halt after just a couple of months. And so for the last few weeks I've been seemingly following the trend and considering giving up blogging completely, other than my weekly posts at BOTTLE Uncorked.
And then something happened.
Well, more a series of things. A couple of weeks back, the guys at Eloqua released an infographic 'tree' of the 67 most influential communications blogs in the UK as ranked by Edelman's Blog Level tool, which measures factors including influence, trust and engagement. The tree covers disciplines as wide as marketing, social media, PR, design, SEO and tech, and lo and behold, within the tree is FutureComms. Considering it was probably only two months old when the analysis was undertaken, it really is great to be featured.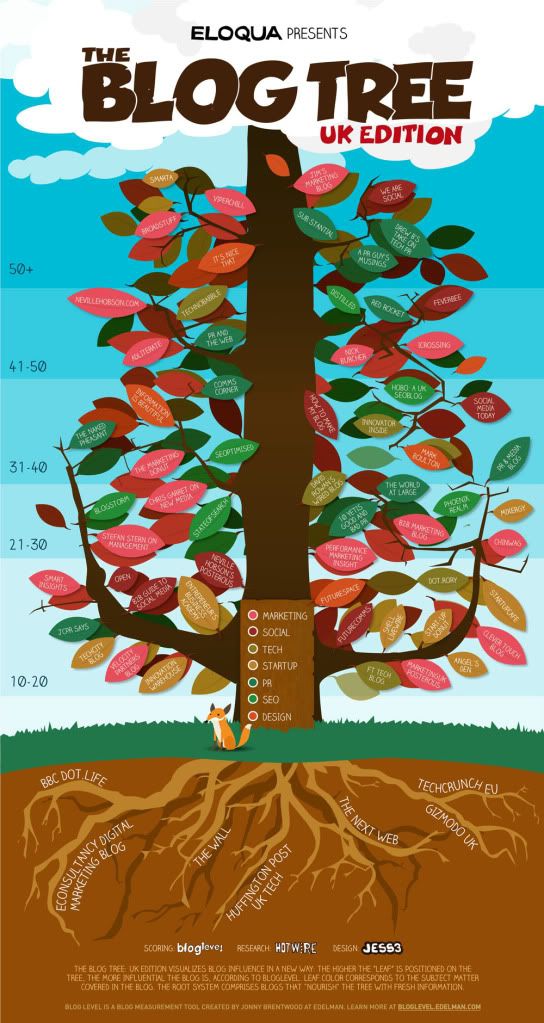 This was followed by a chat with someone else on the tree who's own blog has seen a significant resurgence over the last month after a long quiet spell.
And then, just last week, I read a post about the importance to comms professionals of writing. The argument was along the lines of 'how can you consider yourself a PR/comms pro if you don't even write?'. There are two ways to view this: the article suggests that only by writing regularly can you improve your skills, but when I considered the value of writing to me personally, it's more about framing thoughts and ideas. If you write regularly (and for that, read 'blog'), you allow yourself the time and space to sit and think around a subject, to research topics and to come up with new ways of doing or explaining things to others. And in doing so you start to generate a profile and reputation, and you start to generate leads. The value of that process cannot be underestimated and reaps significant rewards both personally and professionally.
So what's next?
The combination of these events and the thinking it's led me to has given me one almighty kick up the butt. So as well as making more of an effort to find the time to blog regularly here at FutureComms, I'm going to take a look in more detail at the evolution of blogging and where it might be headed. If you're a current or ex-blogger, I'd love to know your thoughts by completing a very brief survey on your own experiences over the last few months – it'll only take a couple of minutes. And pending the results of that: do you think blogging still holds value for the writer and the reader? Or do you think it's a dying form of communications due to social networks and the image-based web?