So after weeks of anticipation, Facebook's finally gone public. And it's fallen more than a little short of expectations. 'Facebook's IPO Sputters' reported the Wall Street Journal, as bankers struggled to prevent the stock from ending its first day with a loss. 'More Whimper than Bang', said CBS News. Talk about anticlimax. It's more Google Buzz than Apple iPad. So, interested in a view from the trenches, I carried out a small poll among my networks.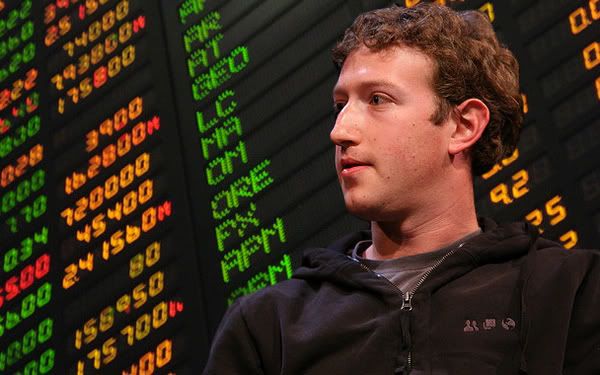 Yesterday I asked the simple question: would you buy $38 Facebook shares? Ignoring those who said they don't have $38 (smart arses, you know who you are…), 57% of respondents said they WOULD buy shares in Facebook. 43% said they wouldn't.
This I find very surprising. It's no secret that many financial commentators feel that Facebook is hugely overvalued and at the centre of a new tech bubble. But maybe this message has been lost among the hype? Or maybe people just don't care? In answering 'no' to my question, Danny Brown said: "Facebook needs to make at least $100 per user to cover this at a minimum. They're (by all accounts) at least 90% shy of that. That leads to an interesting few early weeks and months ahead." Quite. Similarly, Arie Moyal said no "for ideological reasons – it could affect a lot of people's lives when it comes crashing down". He adds: "I'm expecting a lot of annoyed shareholders over the long term. Facebook isn't set up to listen or interact and now it's opening itself up to expectations and obligations to do just that."
Tech Bubbles and Innovation
To my mind, $104 billion does seem a ludicrous amount to justify, no matter how popular Facebook is. Although I'm sure with $19.1 billion in his back pocket, Mark Zuckerberg's not that bothered, while Paul McCormick, better known as Bono, walked away with a cool £1.9 billion from the launch to split among the partners in his Elevation equity investment group. The numbers are staggering and do seem symptomatic of  an economic bubble. But is that necessarily a bad thing?
The thing with bubbles is that they inflate and they inflate and they inflate…and then they pop. But while they're inflating, they finance great innovation, ideas and reinvention that can have a lasting long-term impact. The question is: how long before the bubble bursts? And that, no-one has an answer to. Charlie Southwell answered 'yes' to my question: "I'd certainly buy into the Facebook shares as they float now. It's a great investment and with all the hype bound to grow hard and fast. But I'd also definitely be wary of the bubble bursting and be ready to sell them at any point." Charlie cites the recent $1 billion purchase of Instagram by Zuckerberg (incidentally, the IPO now means Instagram is valued at $1.27 billion) and wild valuations of Pinterest at $1.5 billion (a network with no real revenue model) when he says that "the bubble popping moment can't be far away".
Two years? Five years? Ten years? Who knows, but my opinion is that some people are going to be very badly burned at some stage. Would you take the risk with Facebook shares?