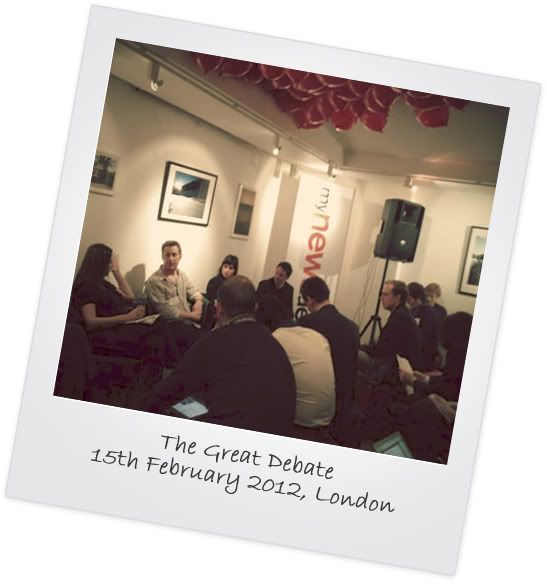 Yesterday I had the honour of taking part in The Great Debate as part of Social Media Week in London. Organised by MyNewsDesk, the panel event was focused on cutting through the hysteria and the hyperbole (a lesser man might say 'the bullshit') to raise and discuss some of the key issues that face the communications industry as it evolves, and featured Jon Bernstein, Deputy Editor of The New Statesman, lifestyle blogger extraordinaire Eva Keogan and Katie McLean, European Digital Manager for Spectrum Brands. It even nicked my #futurecomms hashtag (tsk…)
When I started FutureComms back in January, I asked a dozen comms industry thought leaders what they felt the future looked like, and three of the major themes to come from that formed the bedrock of the things we spoke about yesterday: relevancy, humanisation and diversified job roles.
From a relevancy perspective, there's a big focus on 'the conversation' due to the participative nature of social media. But whether you're a brand, a blogger or a journalist, there's little ROI to just having a conversation: as I wrote in a recent post for BOTTLE Uncorked, sales people aren't rewarded for having meetings, they're rewarded for making a sale. So as communicators we have to start to focus on the outcomes of those conversations. It comes back to the old mantra of 'content is king' and how that content is disseminated.
Social tech has brought about the humanisation of that content dissemination process and, when it comes to setting the news agenda, citizen journalism has a big part to play. But whether it's gradually building long-term relationships with bloggers or journalists becoming as much content promoters as content generators, the future of the communications industry is very much about people, not messages. We must start to listen better, to pay attention to what interests one another, and to understand what others care about rather than trying to sell in stories and messages.
And that leads onto changing roles and responsibilities. Anyone working in communications now has a lot on their plate. Being able to write and form personal bonds is only part of the story – we now need to have at least some understanding of SEO, mobile tech, video and html, and we have to stay on top of the latest developments, trends and tools. We've got to adapt, and we've got to adapt fast! Communications is no longer about crafting the perfect message – it's about being authentic and about using the most relevant tech intelligently to spread word of mouth.
But listen, don't take my word for it. Here's a Storify of what was said during a really interesting couple of hours yesterday: